Window Treatments for High Windows in Bluff City
Homeowners all across Bluff City have a particular window or set of windows that's positioned high up on the wall close to where the wall meets the ceiling, or is so large that it may be out of reach. While these high ceiling windows are unique and visually interesting, they might cause headaches when looking for high ceiling window treatments.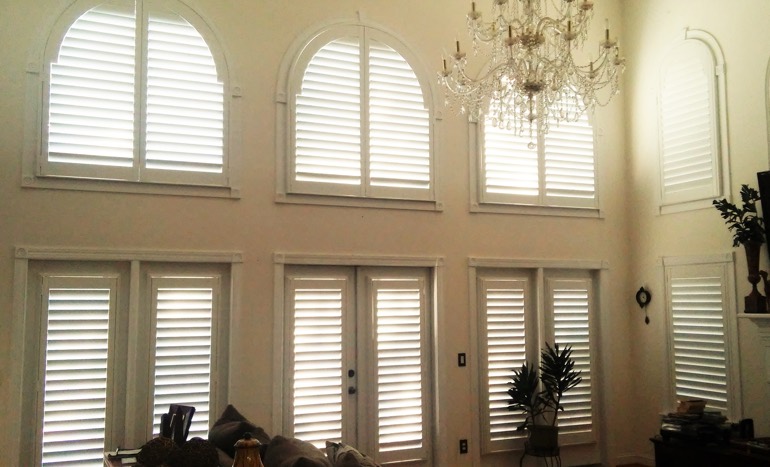 But don't worry - there isn't a window Sunburst Shutters NW Tennessee has seen that wasn't beautiful by the time we were through with it. Let's learn about some of the best choices for window treatments for the tall windows in your Bluff City house.
Tall Window Plantation Shutters
When it comes to high ceiling windows, the more convenient, the better. That's why
plantation shutters
should be one of your first selections for a high window treatment. Typically the first thought about window treatments for a tall or high window is "How do you open and shut it?" With shutters, that's rarely a concern, since it's typical to have the louvers set at a single, desireable angle all the time, so the perfect amount of light is let in while still protecting the privacy you need.
If regular louver movement is necessary, don't worry about breaking out the stepladder. We'll provide you with an adjustable pole to adjust the tilt rod, giving you easy control over the lighting. And when you're done, the pole collapses to fit in your closet until you're ready to use it again.
One of the biggest hassles which goes along with high ceiling window treatments is cleaning them, another area in which plantation shutters shine. Because of their angled construction, material, and color, Polywood® plantation shutters don't need to be cleaned as often as other window treatments. And when the time does come to clean, every part of the shutter can be cleaned with a simple duster, without the hassle of taking down the shutter.
All of these features, paired with plantation shutters' unrivaled energy efficiency, make them a perfect fit for tall windows.
Motorized Shades Make Tall Windows Simple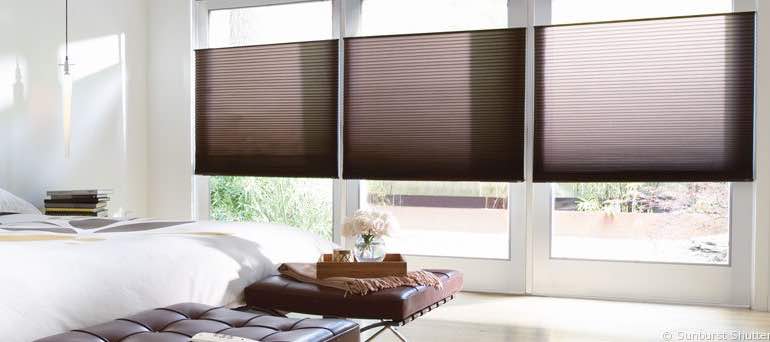 What's almost simpler than leaving your high window treatment in one position? Opening and shutting it with the push of a button! That's where motorized shades come in, bringing you chic looks with the convenience of modern technology.
Automated shades are a perfect partner for high ceiling windows, even moreso because you can choose to either open or shut your shades the old-fashioned way, or remotely. Your window treatments have finally entered the 21st century!
The Best Window Treatments Are No Longer Out Of Reach
Stop letting the distance between the floor and your windows deter you from getting the best product for your house. Sunburst Shutters NW Tennessee will do the hard part when you set up a
free in-home design consultation
. We'll do all the measuring as well as the entire installation process so you never have to step on that ladder. Call us today at
276-685-5343
or schedule an appointment online - we're ready to help!