What Window Treatments To Choose For Your Bluff City Custom-built Home
If you have decided to build a custom home in Bluff City, you seek the best finishes possible, down to the window treatments. It might come as no surprise that plantation shutters top the list of window treatments for custom homes in Bluff City. Their versatility and style incorporate well with all decor types and provide you total authority over the sun's light. With this in mind you can easily create an inviting atmosphere and highlight the unique elements of your custom-built home.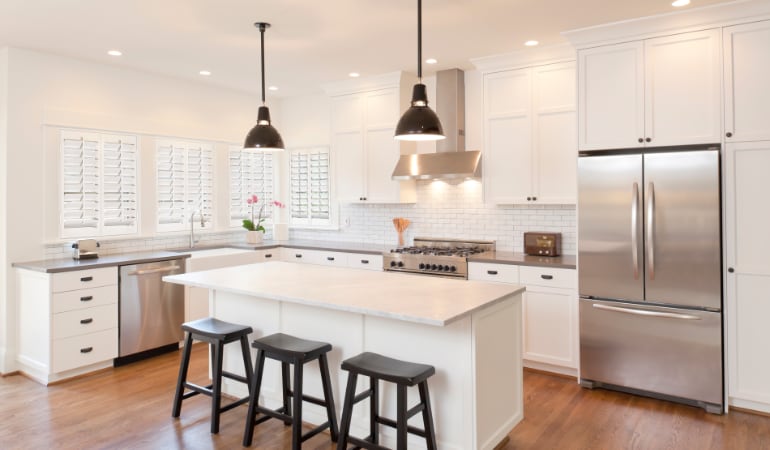 In What Ways Do Plantation Shutters Elevate a Custom Home?
If you are looking to to draw attention to your custom home, select window treatments that other homeowners in Bluff City use to add to their home's style. Plantation shutters work wonderfully with homes of various styles. They are a focal point and garner attention from people who may be more familiar with out-of-style metal blinds and curtains. Their practical but sophisticated design is all that is needed to look stunning and leave a lasting impression on visitors.
Plantation shutters are a smart finish for a custom home. Their distinct construction and classic colors work well with every decor, so you can advise the home builder to include them in every space and not have to worry how they will look in your furnished home.
Plantation shutters can also be designed to fit regular windows and uniquely sized ones, so you have the ability to utilize them on every window and avoid the inconvenience of implementing numerous window treatment options. You will appreciate having a job removed from your list as you figure out your remaining home finishes!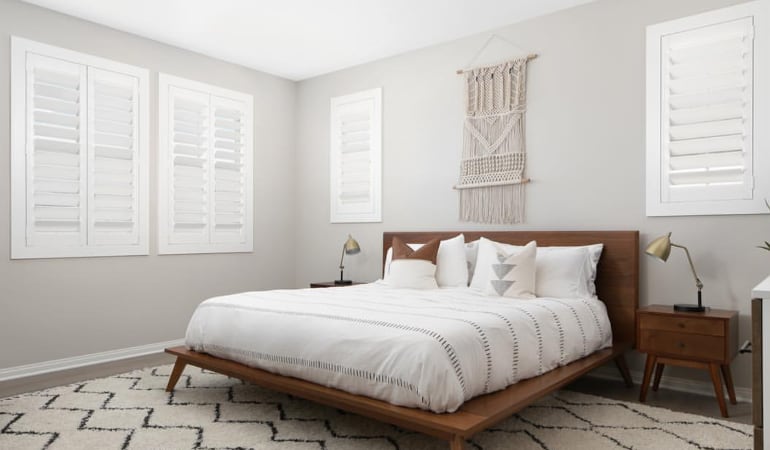 How Do Plantation Shutters Allow You To Filter Natural Light?
Everyone loves the look of a home filled with sunshine. Even though you're sure to have captivating light fixtures to illuminate your custom home, sunlight has special characteristics that give an area a larger appearance or boost its overall character.
Despite its many benefits, the sun's light is hard to predict. As the day goes on, the quantity of light streaming into your custom home changes, and you have to alter your window treatments to redirect the flow of light. When looking for window treatments for custom homes in Bluff City, residents often choose faux wood Polywood® and solid wood plantation shutters that help them control the amount of natural light a room gets.
Simply adjust the tilting mechanism to change the angle of the louvers in the daytime when windows receive direct sunlight to provide a space a more acceptable level of comfort and increase the opening to brighten things up when the sun has shifted to a new location. You might also swing the panels open at the hinges for full sunlight to generate a bright, airy look and shut them again for a more intimate feel.
Altering the slat angles also gives you the chance to redirect light. When you tilt the shutter louvers up or down, you can lighten even the darkest corners to make your space feel larger. You are able to shift glaring light away from people's eyes and reflective surfaces without shutting the slats and eliminating the light altogether. With a single touch, you can direct the quantity and the direction of sunlight that shines within your home for the comfort of your visitors.
Get The Top Window Treatments For Your Bluff City Custom Home
Showcase your home in its best light with the endless appeal of plantation shutters by Sunburst Shutters. We are your source for elegant window treatments that Bluff City homeowners want for their custom-built homes. Give us a call at 276-685-5343 or fill out the form below to get started with a no cost in-home design consultation.