What Are The Best Sidelight Window Treatments In Bluff City?
Sidelight windows, the narrow windows that frame your front door, appear charming in your entryway and can filter sunlight into a shadowy foyer. But they can also let in glare or compromise privacy. And not all window treatment works with these narrow windows. Many people toil to find the premiere sidelight window treatments in Bluff City to fix these issues. Fortunately, custom Polywood® shutters are the solution to all of your sidelight window concerns.
Custom-Made Interior Shutters Fit Your Sidelights' Peculiar Size
The particular appearance of your sidelight windows bears an unfortunate downside - most window treatments can't fit in that small shape.. Off-the-shelf blinds may leave holes or cover over the window frame. Fabric curtains appear excessive on such thin windows. And custom window shades that commonly look stylish may seem flimsy when shaped to fit sidelights.
Polywood® shutters, on the other hand, can be tailor-made to fit your sidelights like a dream. These tailor-made louvered shutters fit in with the design of your windows for a sharp presence. You can also further personalize them to match your home's sidelights and entryway. They come in several frame styles to compliment with your door. If your home has very tall sidelights, try divider rails or split tilt rods to divide your shutters into sections that open and close on their own. Or got with traditional or smaller louvers for a clean look for your skinny sidelights.
Interior Shutters Give Greater Privacy Than Other Sidelight Window Treatments In Bluff City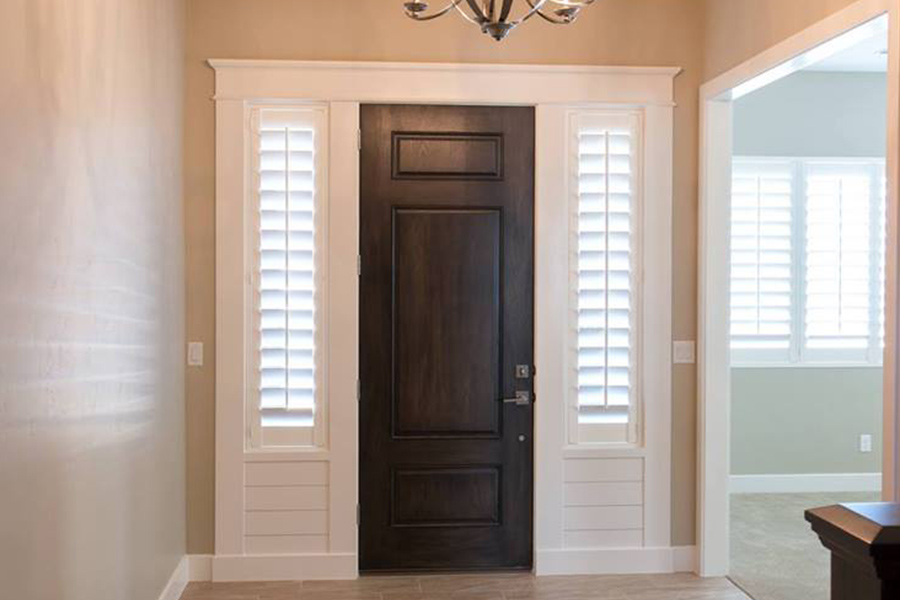 A common problem with sidelight windows is a loss of privacy. Anyone who approaches your door, from mail people to inquisitive neighbors, can glance inside in.
Polywood shutters give you comprehensive privacy on these windows.
Their strong faux wood is 100% impenetrable, and their perfect fit guarantees no gaps around the edges when you close them completely.
Solid Polywood shutters also will not blow in the wind like blinds and curtains in a air current if you experience drafts from your door. Interior shutters are also the most long-lasting window treatments. Around flying toys or rambunctious pets, you can trust that your shutters will remain undamaged..
Interior Shutters Let You Control Light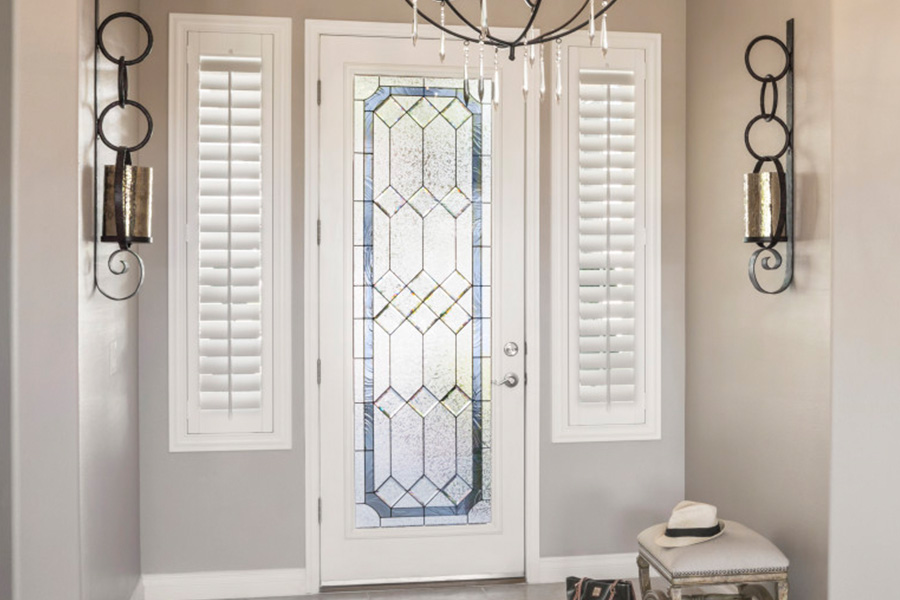 Sunlight in your foyer can liven up your house and make it more inviting to guests as they arrive. But if it is excessively bright, it might blind your guests as they come through the door. And if your front door is directed east or west, your foyer will reside in the shadows for a big chunk of the day and receive too much direct sunlight and warmth the other half of the day.
Polywood shutters are the optimal sidelight window treatments in Bluff City for adjusting light in your entryway. If your foyer seems too dark, you can move the shutter panels to allow sunshine to stream in. If the sun comes in too strong, close the panel and slightly adjust the louvers for the perfect amount of light.
If you want to block the vast majority of the daylight and cool your Bluff City home, your Polywood shutters are specially designed to seal tightly to keep out sunlight and drafts. You'll notice only a slight glow in the place that the louvers touch, and the patented weatherstripping on your shutters guards your rooms from external air and temperature transference up to 70% more effectively than competing window treatments.
Sunburst Shutters NW Tennessee Has The Best Sidelight Window Treatments In Bluff City
Bluff City makes installing sidelight window treatments easy for Bluff City homeowners. We're ready to answer all of your questions about timeless Polywood shutters. Call us at 276-685-5343 today or complete the form below to book a complimentary in-home consultation.