Great Nursery Window Treatment Ideas In Bluff City
When you've got a child on the way in Bluff City, your goal is to get every aspect of your new baby's nursery just right -- including the window treatments. But prior to picking any window covering, don't forget that versatility and safety are essential. Babies can pull down drapery or become tangled in the pull cords of blinds. These coverings won't stop light and drafts for optimal sleeping conditions either. Instead, choose child-friendly, energy-efficient interior shutters or cellular shades as window treatments for your nursery in Bluff City.
Louvered Shutters Will Keep Your Nursery Safe, Cozy, And Stylish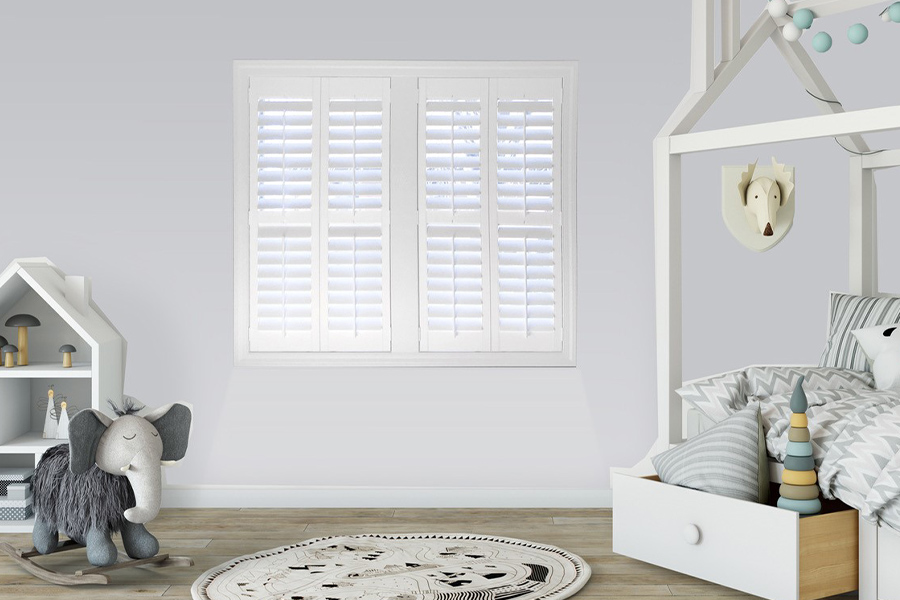 Louvered shutters may not be your top option for nursery window treatment ideas in Bluff City, but they really are the best choice! These superior window treatments look stunning in every room. Their solid panels create an interesting complement to the softer features typically found in a child's nursery. You might install
white faux wood Polywood® shutters
in spaces with bright or lighter-toned color choices. Wood-stained shutters may be a better option in the event your nursery has more natural pieces or you wish to coordinate with the present wood trim. And when you change the design as your baby gets older, your shutters will still be appealing with the space's altered feel.
Louvered shutters utilize a particular composition that makes them suitable for kids' spaces. Instead of using curtains or cords for a child to yank on or become entangled with, interior shutters feature rigid panels with adjustable louvers set in a frame that surrounds the window. They also wipe off easily whenever they get those inevitable smears from tiny hands.
Shutter louvers and panels provider many ways for managing sunlight and privacy in your child's space as well. Swing open the panels for a sunny spot to play or fasten them and rotate the louvers up to allow a bit of sunlight and redirect it off the spot where your little one is playing. Then secure the panels and slats to keep out nearly all sunlight for bedtime and naps.
Shut plantation shutters keep out cool breezes too. Air can't get past solid wood and faux wood as it can through other window treatments. And exceptional Ovation® and Polywood shutters use first-rate craftsmanship to greatly reduce openings where air slips through. Polywood shutters also feature exclusive weather sealing that causes them to be the most energy-efficient nursery window treatments in Bluff City and makes certain your space is always at a consistent temperature for a pleasant slumber.
Cellular Shades Bring Added Efficiency and Color To Nursery Windows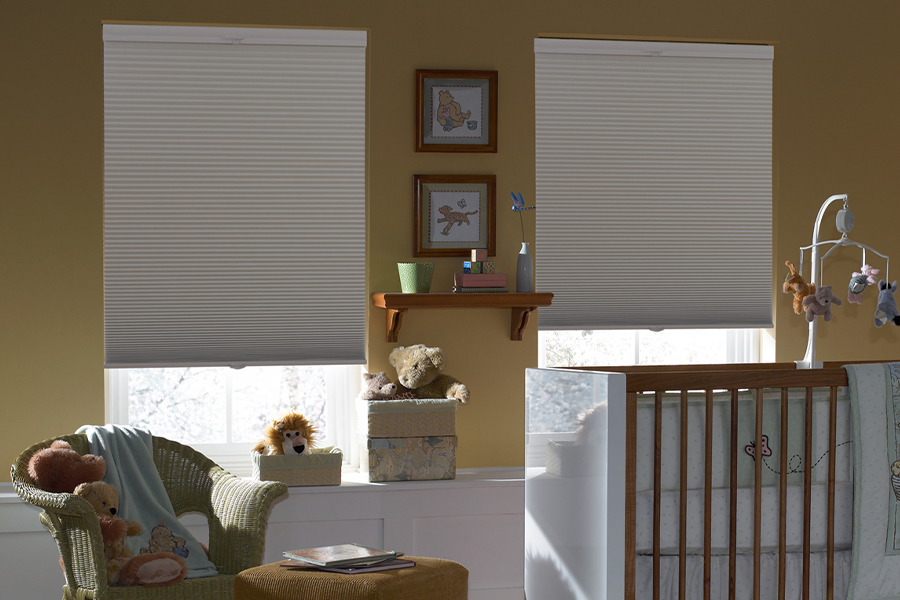 In the event you prefer a softer material for your nursery window treatments,
try cellular window shades.
These window coverings come in various colors, patterns, and materials for you to choose from. You'll also come across different types such as top-down/bottom-up shades that offer extra adaptability with sunlight and privacy or non-corded shades that your little one can't get tangled in.
The top advantage of cellular shades is their ability to save energy. Their unique design features little pockets that catch air entering through your windows before it infiltrates the nursery. They help keep the the space at a pleasant temperature and utility costs within reason.
Looking For More Nursery Window Treatment Ideas In Bluff City? Speak With Sunburst
Whether you need nursery window treatment ideas in Bluff City or options for another part of your interior, Sunburst Shutters NW Tennessee has the answer. We supply a wide selection of window products that make your home more attractive and comfortable. Reach out to 276-685-5343 or complete the form on this page to schedule a free on-site consultation and find amazing window treatments in Bluff City.