Five Suggestions To Create An Amazing Media Room In Bluff City
The latest home theater technology makes it easier than ever before to enjoy movies, gaming, and television as you kick back in your own space. That's why families in Bluff City are inspired to create home media rooms. You might be wondering: What should you have to make a fabulous home media room? From the best window treatments to electronics, explore these five suggestions for creating a media room in Bluff City that everyone will enjoy.
#1 Take Charge Of Outside Light With Interior Shutters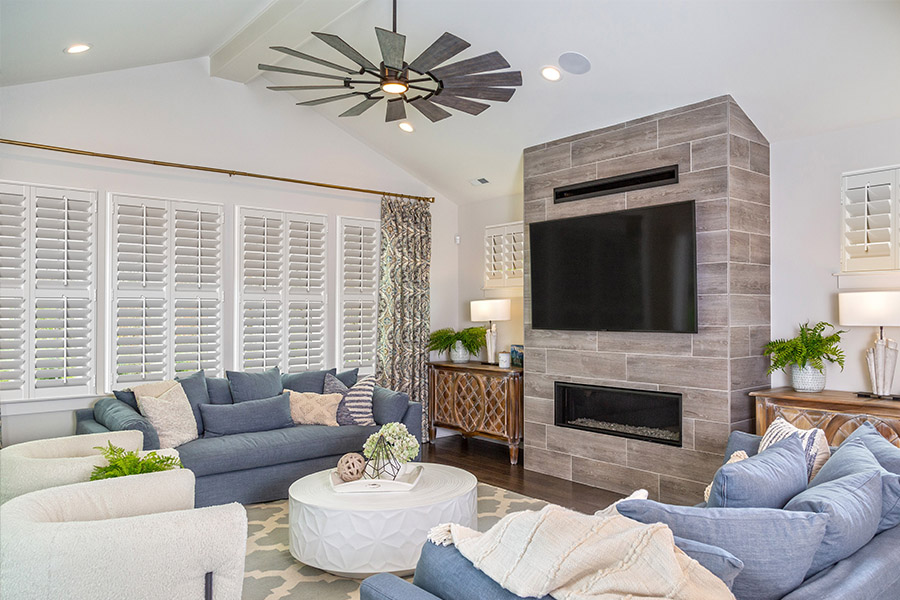 Few things can spoil a movie like sun glare on your television. Light dimmers help, but what what's best for exterior light? Install
louvered shutters as window treatments
in your media room in Bluff City for optimal light management. Louvered shutters have a solid outer frame that encloses your window's frame to keep out exterior light. These sturdy installations also consist of hinged panels with adjustable slats that shut closely to achieve near-total darkening. You might even move the louvers as you wish to move light away from TVs or your eyes without making your space resemble an underground cavern.
When you select Polywood® shutters, you'll achieve improved insulating ability as well. These synthetic shutters stop heat from the sun and cooler breezes to allow your media room to maintain an agreeable temperature. They are capable of preventing as much as 30 degrees of temperature transfer, lowering your energy costs.
#2 Improve Your Media Room's Acoustics With A Few Doable Refurbishments
As soon as you conquer the lighting in your Bluff City media room, switch to the audio experience. Drywall is sufficient for media rooms walls, but your basement's concrete devastates the quality of sound. The easiest way to minimize echoing in your lower level media room is by installing acoustic panels. In the event you need to perfect the sound quality in your media room, look for easy-to-install sound dampening or deadening materials. You can then proceed with window treatments, like shutters, to block out exterior noise.
#3 Select The Right Equipment
The proper electronics will deliver superb acoustics too. Begin with your surround sound setup. Numerous homeowners like devices with Wi-Fi capability since you don't have to trouble yourself with hiding wires.
You also need an amazing flat screen. LED and LCD TVs offer excellent brightness, but 4k TVs often have greater contrast ratios and extremely wide viewing angles. You could also go with a projector and screen for a large media room. No matter what television you pick, place it higher up your wall for the best viewing angle.
#4 Find Comfy Furniture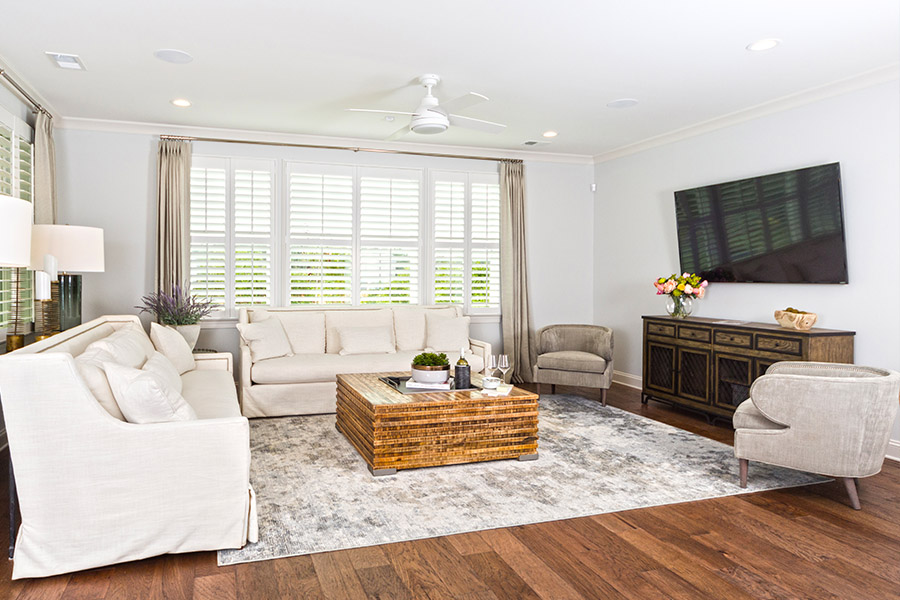 You can't enjoy that new video game without a comfortable place to sit. If your goal is home theater vibes, select specialized seating with reclining capability and incorporated drink holders. If you plan on gaming, buy a few chairs suitable for long hours at play. A spacious sectional works great too. While you're at it, add some super-soft blankets and pillows to hunker down for those binge watching nights.
#5 Customize With Your Favorite Theme
Customize however you want when creating a media room in Bluff City. Do you associate with a specific movie franchise? Is your goal to feel like you're inside a genuine theater? Replica movie posters, a vintage popcorn trolley, and vibrant colors should promote your media room's purpose.
For a more understated look, customize using your choice of color combination. Warmer hues with wooden trim and complementary Ovation® shutters will make your media room feel snug. You might also make it light and welcoming with more neutral colors and Polywood shutters.
Speak With Sunburst About Window Treatments For Your Media Room In Bluff City
The experts at Sunburst Shutters NW Tennessee are here to help you select window treatments you love for your media room. At your free on-site consultation, we'll present how samples look in your space before you make your decision. Schedule yours today by calling 276-685-5343 or by submitting the form below.