8 Ways to Use Reclaimed Wood in Your Bluff City Home
Bluff City homeowners love reclaimed wood and how its unique attributes enhance their home décor – inside and out. It's a trendsetting way of repurposing weathered wood and fully showcasing your one-of-a-kind style. Reclaimed wood products are genuine eye-catchers whether you've featured it on a wall, your cabinets, or – imagine it! – your windows. Need a bit of reclaimed wood inspiration? We've gathered 8 sensational ideas for you – each and every one applied to wonderful effect in Bluff City homes.
1.Reclaimed Wood for Windows
For the first time ever, you can easily own reclaimed wood as a window treatment. Sunburst Shutters now offers a plantation shutter formed from the finest reclaimed wood. In truth, Sunburst is the lone company providing reclaimed wood shutters in the Bluff City area. We found the reclaimed wood you like and used it to engineer a louvered shutter that's just as appealing for its functionality as it is for its beauty.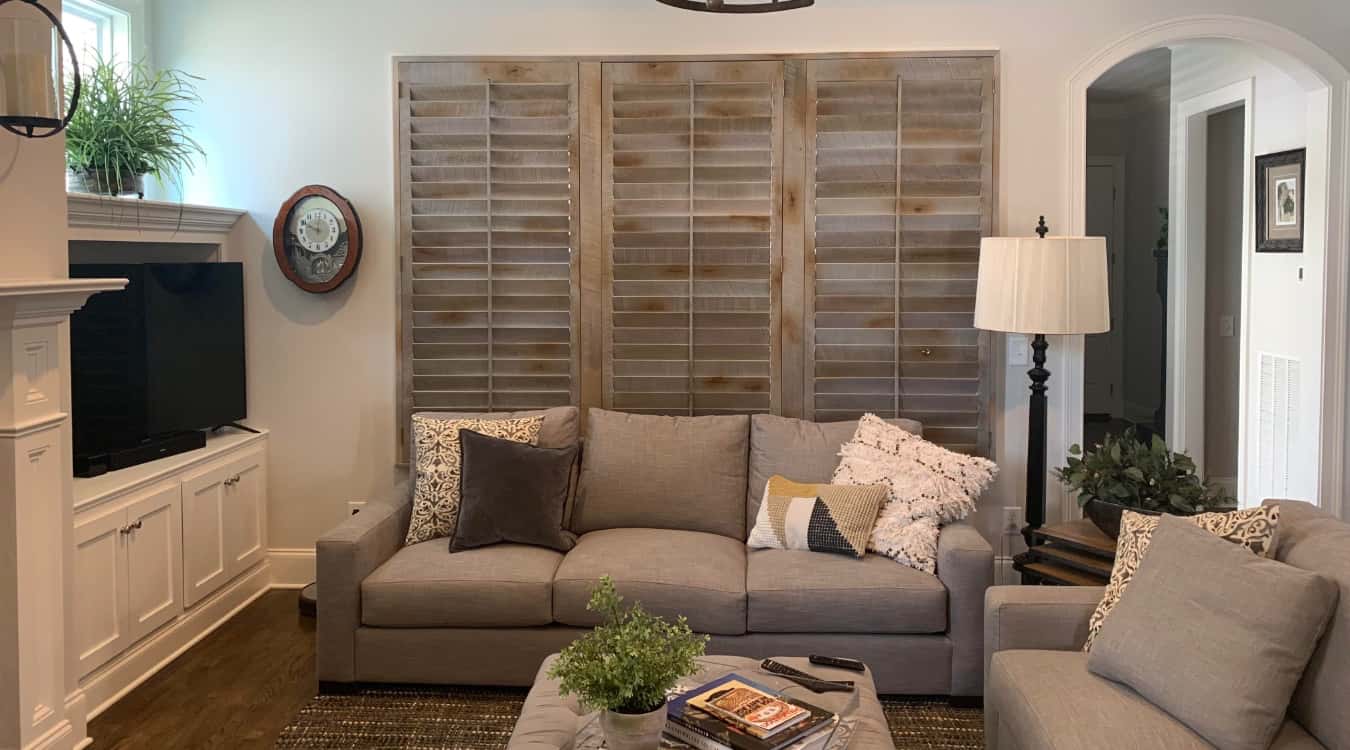 Reclaimed wood can become the makings for a window treatment that's wholly original. It helps, of course, when your reclaimed wood shutters are a masterpiece in themselves. And Sunburst takes care that they are. You'll quickly discover that their smooth, simple operation is as appealing as their look. Tilt the louvers open to allow more light. And tilt them closed to more fully appreciate the weathered look of reclaimed wood on your window. Learn more about reclaimed wood for windows in Bluff City
2. Reclaimed Wood for Your Wall
Bring the outside in with a reclaimed wood wall. Reclaimed wood paneling turns your wall into a quiet but compelling showpiece and lends a casually convivial feel to the room. It doesn't matter if you have a artwork, TV, bookcase, or fireplace to call attention to, a reclaimed wood wall will look beautiful behind it and provide the very effect you'd hoped for.
3. Reclaimed Wood and Floors
Want to redo a floor in your house? Lots of wood flooring can warm up a room, but flooring of reclaimed wood has a unique beauty reflective of the time – usually decades – the wood has remained in its natural habitat. Regardless of whether you love the outdoors or simply love the look of weathered wood, you'll go into your happy dance for sure when you see what a reclaimed wood floor can do to enhance your home.
4. Use Reclaimed Wood in Cabinets
Now's the time to give your kitchen cabinets a sprucing up with reclaimed wood. It's the natural way to revive your entire kitchen. Each panel of reclaimed wood tells a remarkable tale – of decades during which it languished in a forgotten building, perhaps, or as part of a fallen barn or fence. And a trace of that narrative will survive in your reclaimed wood cabinets, called forth each time you reach into them.
5. Reclaimed Wood as a Table
A tabletop incorporating or wholly consisting of reclaimed wood can impart a trendy, assuredly different ambiance to your dining room or home office. Partner the subtle, natural hues of reclaimed wood with your décor for a harmonious look that fulfills your expectations – at the same time it blows your guests away!
6. Bookcases of Reclaimed Wood
Aside from the value we assign them otherwise, books make fantastic decorative pieces. Leather, vinyl, buckram, or paperbound books and those with colorful dust jackets look good on a coffee or end table, on a bookshelf, or in a large bookcase. Their agreeable variety is both highlighted and unified in bookcases of genuine wood, too. And bookcases of reclaimed wood, because of their natural colors, knots, holes, scratches, and other markings, become a particularly distinctive, one-of-a-kind furnishing.
7. Reclaimed Wood as a Frame
The simple, natural look of reclaimed wood is perfect for picture frames. It actually can enhance your favorite artwork and most cherished photos in a decidedly distinctive manner. What's just as worth pointing out is that frames of reclaimed wood can be fashioned in a wide range of styles, so they'll complement nearly any look you've established for your home.
8. Reclaimed Wood for a Headboard
Not much can upgrade the look of a bedroom like a skillfully designed and constructed headboard. There's no single way, of course, to attach a headboard. It can be – and often is – fastened in some way to the bed itself. But a fair number of people these days like to have it attached to the wall behind their bed. Whichever way works best for you, a headboard constructed of reclaimed wood planking can be particularly beautiful. It's natural coloring and effects of weathering lend themselves to a diverse number of styles, from antique to modern. With reclaimed wood, you'll discover there aren't any limits on your imagination to to stop you from creating the headboard that dreams are made of!
Get Reclaimed Wood Inspiration
We hope we've inspired you with these 8 ideas for getting the most out of reclaimed wood. As you might expect, though, we have lots of other ideas as well – ideas that work beautifully with the reclaimed wood shutters only we make so readily available in Bluff City. Our team would be pleased to show you samples of our shutters, answer your questions, and give you lots of other great design ideas. Call us at 276-685-5343 to arrange your free in-home design consultation today!